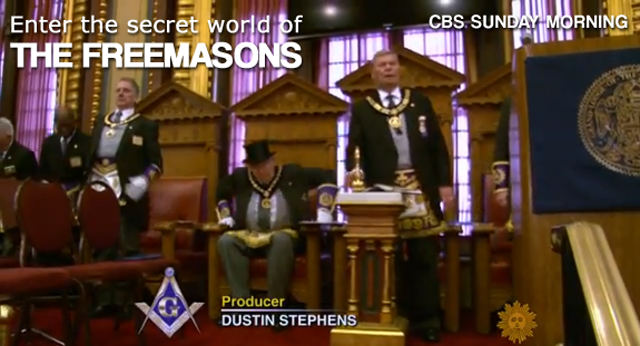 Enter the secret world of the Freemasons
The Grand Lodge of The State of New York Free and Accepted Masons, opened its doors to the producers and reporters of the popular television program CBS Sunday Morning.
Peek behind the veil
of this mysterious organization on this candid and intriguing investigation.
Mo Rocca from CBS Sunday Morning speaks with experts in Masonic History, including History Professor Margaret Jacob from UCLA, our dear Brother Brent Morris and New York State Grand Master James Sullivan.
When I first learned that there would be a segment presented on CBS Sunday Morning, I was very excited. I enjoy watching this program with my wife almost every Sunday. Then, I couldn't wait to share the news with The Winding Stairs community. Especially because I think that programs like this, when done respectfully, can increase the visibility of our honorable Fraternity and improve the public perception of Freemasonry.
Why should you care about programs like these?
I am sharing this program with you for several reasons.
First, I would like for you to watch it and judge for yourself if the report presents the Fraternity in a positive light.
Secondly, if you are content with the way our Fraternity is portrayed, now you have an additional tool to share a little more information about Freemasonry with others.
Prepare yourself accordingly...
Like many other public presentations about Freemasonry, this program has the potential of increasing interest in public regarding Freemasonry and drawing some potential candidates to petition. Another very public introduction to the public about Freemasonry, will be the upcoming release of the movie titled "The Freemason". We recently sat down with Bro. Joseph James for an interview, who revealed that one the reasons for his creation of movies related to Freemasonry was to help increase the public's interest in learning more about our Craft. By consequence, you should expect to hear about these programs and movies from others and prepare to appropriately answer their questions; Especially, if it is a worthy and well qualified Man who is reaching you for guidance.
Remember to guard the West Gate!
Although the increased attention can result in an increase of petitions, we are to be vigilant to only accept men who are good fit for Masonry.
Here is the CBS Sunday Morning segment on its entirety:
I personally enjoyed the light hearted, yet intriguing way in which Mo Rocca explores his curiosity about Freemasonry. I presume, that just like I was curious before joining the Fraternity, there are many men out there who are interested in learning more and might just have received a little incentive to Ask. On this report you can see a brief clip from the popular animated show The Simpsons, in which a fraternal order called The Stonecutters sings a song, which is obviously a parody of Freemasonry and the multiple conspiracy theories that plague us. If you have never heard this parody song on its entirety, you might get a laugh out of it.
Click here
to listen to it.
Question: Our generation of Freemasons is a little more open about their membership in Freemasonry when compared to generations past. Do you think that being more open about being a Freemason hurts or helps the Fraternity?
(Think of our generation's use of Masonic Symbols in their jewelry, apparel, car emblems, tattoos, etc.)